SANTA CLARA, CA—(Marketwired – Dec 3, 2014) – Avaya today announced that Laurent Philonenko has been named senior vice president of Corporate Strategy and Development – CTO. In this role, Laurent will accelerate the development and execution of Avaya's short– and long–term growth and engagement strategies. He also joins the Avaya Executive Council.
As part of his focus on Avaya growth strategies, Laurent will oversee Avaya Labs, architecture and consulting groups, as well as the Avaya DevConnect developer program and technology partnerships.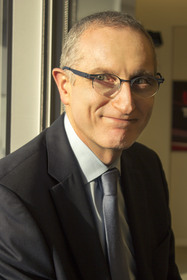 Laurent most recently served as vice president, Corporate Strategy and Development for Avaya. Prior to his arrival at Avaya, Laurent successively served as Vice–President and General Manager of several business units and as Chief Technology Officer for Cisco's Collaboration Technology Group, and previously as CEO for Genesys. 
Laurent is a graduate of Ecole Polytechnique in Paris and holds a master's degree in Management Science from Paris University. He holds nine U.S. patents.
Quote
"Laurent is a recognized leader and proven visionary in enterprise collaboration and communications. His experience and years in the industry have given him a unique understanding of our customers' evolving business needs and how they align with opportunities available through technological innovation. We welcome him and look forward to his leadership and contributions as part of the Avaya Executive Council."
– Kevin J. Kennedy, CEO, Avaya
About Avaya
Avaya is a leading provider of solutions that enable customer and team engagement across multiple channels and devices for better customer experience, increased productivity and enhanced financial performance. Its world–class contact center and unified communications technologies and services are available in a wide variety of flexible on–premises and cloud deployment options that seamlessly integrate with non–Avaya applications. The Avaya Engagement Environment enables third parties to create and customize business applications for competitive advantage. Avaya's fabric–based networking solutions help simplify and accelerate the deployment of business critical applications and services. For more information please visit www.avaya.com.
Certain statements contained in this press release may be forward–looking statements. These statements may be identified by the use of forward–looking terminology such as "anticipate," "believe," "continue," "could," "estimate," "expect," "intend," "may," "might," "plan," "potential," "predict," "should" or "will" or other similar terminology. We have based these forward–looking statements on our current expectations, assumptions, estimates and projections. While we believe these are reasonable, such forward looking statements involve known and unknown risks and uncertainties, many of which are beyond our control. These and other important factors may cause our actual results to differ materially from any future results expressed or implied by these forward–looking statements. For a list and description of such risks and uncertainties, please refer to Avaya's filings with the SEC that are available at www.sec.gov. Avaya disclaims any intention or obligation to update or revise any forward–looking statements.
Follow Avaya on Twitter, Facebook, YouTube, LinkedIn, Flickr, and the Avaya Connected Blog.
Image Available: http://www2.marketwire.com/mw/frame_mw?attachid=2731527